There is a wide range of choices when it comes to apartment types. it is good to know about the various types of apartments because this knowledge will help you to be vigilant in purchasing an appropriate apartment.
Based on size, amenities and neighborhood, apartments are grouped into various types. If you are planning to buy an apartment you can go through this list which will help you make a decision on the type of apartment you want to live in.
Let's get started,
Studio
Studio apartments have a living area, kitchen, bedroom, & bathroom inside a single room. These apartments are suitable for hostelers, bachelors, and retired individuals.
Alcove Studio
Alcove Studio apartments are similar to studio apartments with a niche. This niche is like a compartment that has enough space to set a single or double cot.
Convertible
Convertible apartments also called flexible apartments has a big area with 2 bedrooms. You can raise a wall to get an additional bedroom.
Loft
Loft apartments have an expanded space typically, like an auditorium, with no walls in middle to separate each room. Some of the characteristics of loft apartments are high ceilings, ventilator facilities, wooden or concrete flooring.
Duplex/Triplex
Duplex/Triplex apartments have two/three storeys. To reach the second & third floor a private staircase is built.
Garden Apartment
Garden apartments are located on the ground floor. These apartments are surrounded by yards, shrubs, plants and so on.
Railroad Apartment
Railroad apartments have long & narrow rooms without any hallways. There will be five or six storeys.
Multi-Storey
Multistorey apartments are housing units in a building with more than five floors. It has elevator facilities, better security, etc. Large space is available within the complex.
Row Houses
Rowhouse apartments are a number of houses in a row joined by common sidewalls. Facilities like water, electricity, parking, and garden need not be shared with your neighbors.
Villa
Villa apartments are especially for people who like to have a luxurious style of living. It includes amenities like a pool, garden, lawns, etc.
Gated Communities
As the name implies, gated community apartments are a collection of homes that provides high-level security to its residents. Other than the members of these households, outsiders cannot easily enter these apartments.
Condominium
Condominium apartments are multiple housing unit building where each unit is owned by an individual. All the apartment maintenance work is overseen by the maintenance team so you need not worry about maintenance work. This is one of the main advantages of Condo apartment.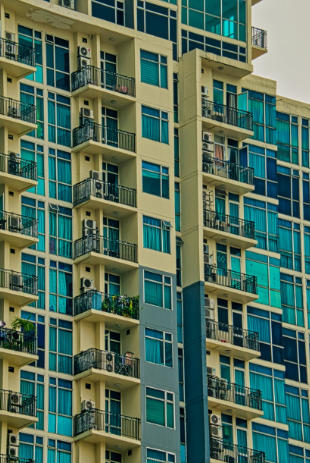 Low Rise & High Rise
Low rise apartments are short in height with four storeys whereas high rise apartments are big in height with more than four storeys. Both have 2BHK, 3BHK on their floors.
Serviced Apartment
Serviced apartments are exclusively for people who are accommodating for both short-term and long-term stay. They are fully-furnished apartments with a washing machine, dresser, and much more.
Maisonette
Maisonette apartments can also be called as small houses as it provides privacy, open space and a free lifestyle. They have staircases constructed inside the apartment. Highly recommended for joint families with many members.
Here is a graphic that sums up the entire post.
Conclusion
When you are aware of these apartment types, you will not be directed to buy an unsuitable home neither for you nor for your family. We hope that this blog had helped you to fetch knowledge about the different types of apartments.
If you are planning to buy an apartment for you and your family do reach Lancor (+918144787405). We can help you find an apartment depending on your requirements.