An apartment is a place where a lot of people spend water according to their will and wish. Some spend it needfully and some spend it lavishly. Spending water up to an adequate level is appreciable, but when the consumption goes beyond our need, it turns out to be problematic.
Most of the big metropolitan cities such as Chennai and Bangalore are already facing water scarcity problems. If we begin to take steps to save water, it will be helpful for the present and future generations.
In this blog, we are going to give you some amazing tips that will help you to save water while spending less on your water bill.Save Rainwater
Save Rainwater
Around 5000 liters of water could be saved by fixing large barrels to catch rainwater during rainy seasons. Your plants will also be happy that you gave them rainwater instead of treated tap water. If you want to learn more about rainwater harvesting, you can check our blog.
Additionally, instead of using automatic sprinklers, manual methods such as hand watering plants can cut water usage by 33%.
Wash Your Car Using Less Water
By washing cars at home, you can save 100-300 liters of water. First, you have to use a pail of soapy water and then use a clean cloth to remove excess water. This way, you will consume only 20 liters of water to wash your car. You can also use waterless car wash products to avoid spending water altogether.
Fix Leakages
Approximately, 10,000 liters of water is lost every year by not fixing water leakages. So, if there are any leaky sinks or running toilets, immediately contact the maintenance department in your apartment for help or do it yourself by following this simple guide.
Save Water During Each Shower
If you want to have a satisfying shower without using more water, installing a low flow showerhead is the best option. Installing shower heads with a minimum water flow can save up to 189 liters of water. You can use it in your bathroom and kitchen sink of your apartment.
Double-Dip Dishes
To save water when cleaning the vessels, fill one sink with hot & soapy water for washing and another sink with cool & clear water for rinsing. If you have a single model sink, you can use two bowls, one for washing and the other for rinsing.
Dual Flush
Simply flushing the toilet accounts for nearly one-fifth of the water consumption. If your toilet has a single-flush model, consider changing it to dual-flush. You can use the small button to flush liquid waste and the big one to dispose solid waste. To minimize water usage, you can also install a water displacement device in the tanks of the olden lavatories.
Buy An Efficient Washing Machine
Always purchase a water-efficient washing machine. Front-loading washing machines usually consumes 50% less water than top-loaders. Plus, the washing machine must have a rating of five-star in efficiency and four-star in energy. Always keep this in mind, wash clothes only when you have a full load.
Here is a graphic that sums up the entire post.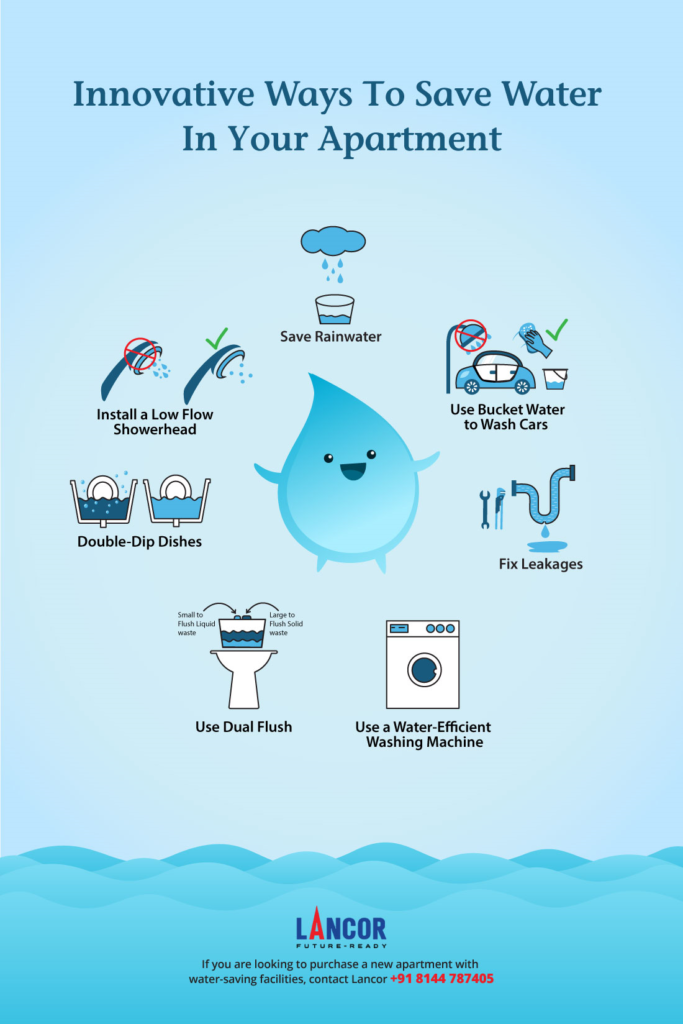 A considerable amount of water could be conserved by bringing small changes within the home surroundings. These small changes will have a good impact on your ecosystem and also on your forthcoming water bills.
If you are looking to purchase a new apartment with water-saving facilities, do reach Lancor (+91 8144 787405 ).
We understand the importance of water and construct apartments that will allow you to save water in all possible ways.