One of the most exciting things in life is to purchase a new apartment and scheduling a date for the move-in. However, concentrating on the aesthetics of your apartment can be difficult when you are stumbling and second-guessing on how to make the most of the floor plan.
In spite of the limited space, there are lots of unique ways to make your living space more open and ample. Here are some ideas you can borrow to expand your square footage.
Color Strategy
When choosing colors for your one-bedroom apartment try to pick from a light color palette which will open up spaces. Rich and dark colors have the tendency to make the entire apartment look small and compact. If you want to add some dark shades, you can pick a color that is a contrast to the wall color. Using perfect lightings can also enhance the look of wall colors as well.
Smart Storage
Make sure to utilize all the shelves and storage spaces that come along with your apartment. This can eliminate the need for extra add-on storage spaces that makes the room feel cramped. Well-utilized stackable storage in the kitchen and bedroom can provide lots of breathing space and help to showcase it as a big apartment.
Floor Coverings
In a pre-built one-bedroom apartment, you're often stuck with standard designs and decorations. So, purchasing a rug or carpet that matches your wall color will give a great vibe to your apartment.
Furniture Placements
In order to get furniture placement ideas, picture your apartment's living space without any furniture. This will help you think beyond the current arrangement of your furniture. First of all, decide if the room is large enough to divide into zones that will provide more functional spaces. Then start placing your furniture according to your creative thoughts.
Dual Purpose Furniture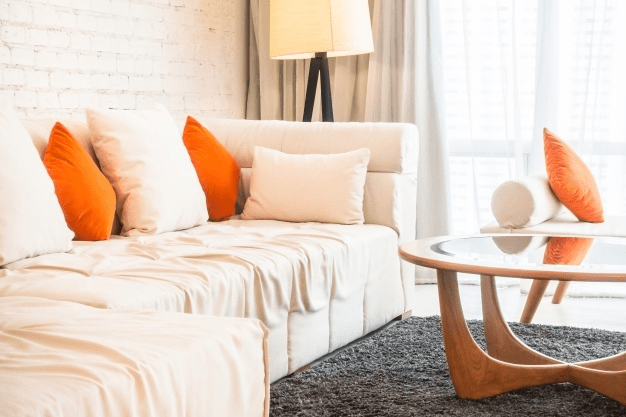 While setting up your one-bedroom apartment each and every inch counts. Usually, investing in dual-purpose furniture can save space. Make sure to choose pieces of furniture that are appropriate in size and perfectly fit your room's space and color.
Hidden Storage
All your household things can be stored in places that are hidden from the eyes of viewers. A beautifully skirted table with shelves can hide lots of things which will be overwhelming if placed above the table. A table placed near the dining room can hold dining rooms extras. If the table is placed in the living room you can even hide extra shoes, handbags, etc.
Vertical Storage
While planning to make use of space in the best way, going vertical is recommended. Tall and narrow storage systems are best when trying to get more accommodation out of the least amount of space. You can make use of vertical order anywhere, right from things in the living room to the things in bathrooms.
Decluttering Regularly
Clutter hogs space and makes a place look disorganized. So, make an effort to clear all the clutters once or twice in a year. This can free up lots of space and give a fresh look to your apartment.
Curtain Illusions
You can give a luxury look to your one-bedroom apartment via draperies. Hanging several sets of draperies over your walls can give an awesome look without the need for wallpapers or paints.
Layer the Storage
Adding layers in your apartment can provide depth and space. Layering is not only the process of piling up one design element on top of the other. It is a process of creating contrast via layers. For example, If you own a sofa with a simple design, you can throw boldly-patterned pillows on top of it.
Embarrass the Floating Design Trends
Huge furniture can close-off the entire space of the apartment. Incorporating floating elements can allow eyes to travel all the way through space. Therefore, try to purchase some floating shelves in different sizes. You can stagger them to make unique arrangements.
Here is a graphic that sums up the entire post.
Winding Up
Interior decoration is crucial as it brings out the key elements in the architecture of your house. Living in a one-bedroom apartment doesn't mean that you have to sacrifice on style and decoration.
Our team at Lancor has carefully researched and picked the best decorating tips that are suitable for a compact space. With the help of all these tips, you can make your one-bedroom apartment seem larger.