Nowadays, more and more people are devoting time to uplift their emotional well being.
Performing traditional poojas is one of the best ways to build better mental health. Pooja room is a place in our home where we join our hands in prayer to the divine God we adore. The presence of such a space induces positive vibes in the living space.
While setting up a pooja room in your new apartment, it is important to decorate it properly so that the area will be fresh and vibrant.
Sometimes, it is not that easy to pick the best pooja room ideas that will go well with your apartment. However, gaining knowledge about various innovative pooja room designing ideas can make things different.
In this blog, we have collected some innovative designs that will be suitable for apartment living.
Corner Pooja Room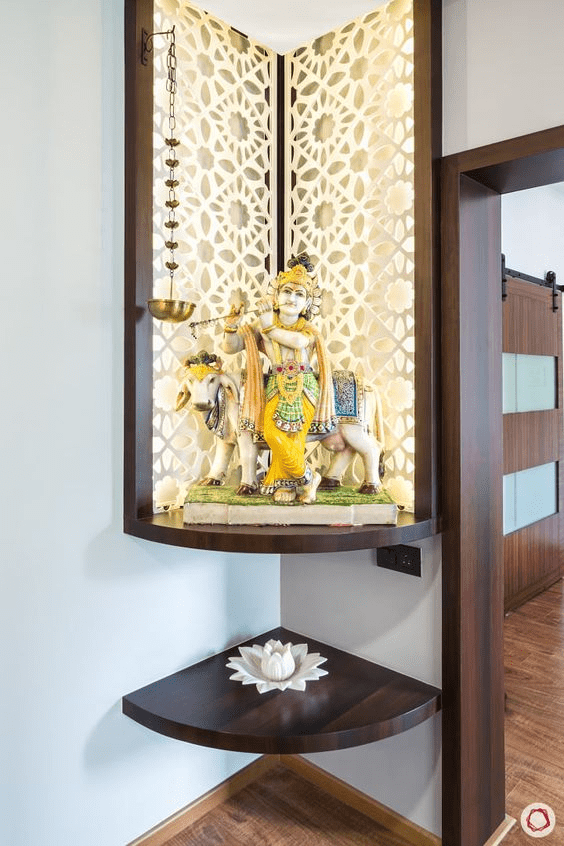 One of the best places to set your pooja room is in a suitable corner. Make sure that the corner you have chosen in your apartment is not used frequently. This will provide privacy when you pray.
Shelf Pooja Room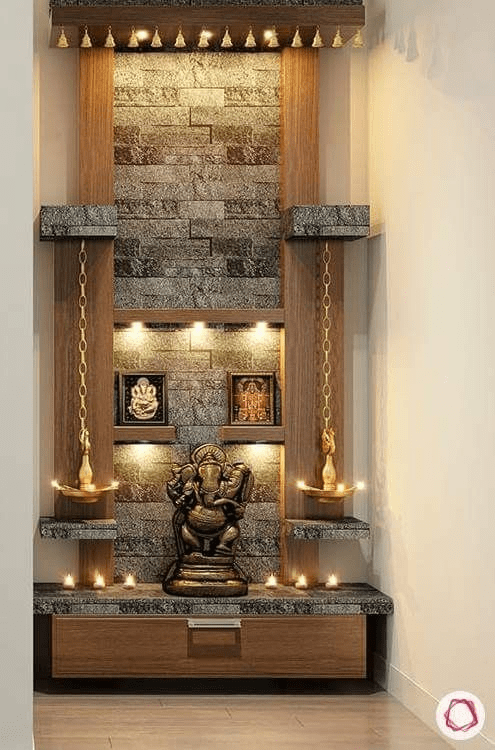 Making use of available shelves in apartments is a simple and convenient way to set up a pooja room. You can either select a huge or small shelf depending upon the space required for your idols and other things. In order to move in the right direction, you can rely on Vastu tips.
Pooja Room In Living Area
Using the living area for the pooja room is one of the best ideas. This set up can offer a pleasant breathing space and gets along with the decor of the apartment as well. Therefore, make sure to select a perfect area in your living area to set up your pooja room.
Pooja Room In Kitchen
If you don't have any other place to set up your pooja room, you can make use of your kitchen shelf. Mostly, this is not recommended but can be utilized when there is no option left. This design is used commonly by people who own an east-facing apartment. Also, considering Vastu while setting up pooja rooms in the kitchen is important.
Pooja Room On A Wall
Making use of the wall is one of the innovative and modern ideas for setting up pooja rooms. You can use floating shelves to arrange the pooja idols, pictures, etc. Differentiating the pooja wall color from the rest of the apartment color will make the pooja room look unique from other walls.
Stand-alone Pooja Niches
Stand-alone pooja niches can be beneficial if you wish to have a separate pooja place. This style is trending in many apartments. You can enhance the look and feel of the pooja room by decorating it with different backgrounds. Also, it can be shifted to any place according to your convenience.
Pooja Room In Cupboard
If you are not interested in spending on a new pooja shelf, you can set the pooja space in one of your existing cupboards. This pooja room setup can be shifted to any convenient place in your apartment. Make sure to rely on Vastu in order to spot out the perfect place for placing this cupboard.
Here is a graphic that sums up the entire post.
Winding Up
All the designs listed in this blog are rising in popularity due to its compact size and limited space consumption. You can select any one of these ideas by keeping the available space and apartment's look in mind. These designs can give a luxury pooja room look for your apartment without compromising on the space.
If you have plans to buy a new apartment with a peaceful environment, feel free to contact our real estate professionals at Lancor. We offer multiple apartments with unique pooja room designs!
Disclaimer: All the images in this blog were taken from Pinterest. None of them are owned by Lancor.