January is indeed an auspicious month for Tamilians from across the world, since this is when Pongal – the festival of harvest – is celebrated with much splendour. This festival is when farmers take the opportunity to thank the almighty for his blessings and the abundant agricultural produce of the past year. Decorating your home with colourful and vibrant rangoli kolams is an important ritual of Pongal celebrations. Every year, relatives and friends get together to create extravagant Pongal Kolams by using a variety of materials such as rice powder, marble granules, colour powders and flowers. Ideally, for a kolam rangoli, dots and lines are artistically incorporated to create a thematic design. Exquisite rangolis are created by drawing grids of varying sizes. This Pongal, make sure you offer a visual treat for your friends and relatives by trying out these innovative and unique Kolam designs:
Paper cutting kolam rangoli
If you are looking to create some easy Pongal kolam designs, then paper cutting kolam rangolis is the best option. In this type of Pongal kolam design, sweet pots and diya stands of different styles and shapes are drawn and cut out using newspapers and colour papers. After arranging the designs in the appropriate manner, the paper cuts are decorated with flower petals or coloured rice powders. So, this Pongal, if you are planning to indulge your kids in some creative activity, paper cutting kolam rangoli would be a great idea.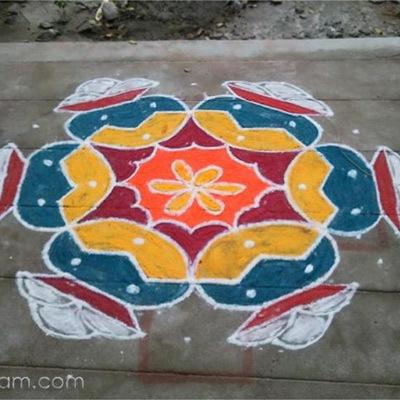 Surya kolam rangoli
Are you looking for some offbeat trends in kolam designs? Then you must try out the Surya kolam rangoli. This is one of the traditional kolam designs that has stood the test of time. The most striking feature of this design is that it is extremely classy and elegant at the same time. Surya kolam is a must-have rangoli design for the main puja day. Nowadays, Surya kolams are available in different sizes in the form of posters and stickers as well, making it a convenient option for urban families.
Floral kolam rangoli
Floral motifs in vibrant colours can definitely make you stand out in any rangoli competition. The greatest advantage of floral kolam rangoli is that it is quite simple and easy to execute. Several cubical frames are interconnected to create beautiful and magnificent floral designs. To make your floral design look even more extravagant, you can also incorporate other festive motifs such as butterflies, peacocks, ox heads, sugarcanes and earthen pots. Make your floral kolam rangoli using flowers such as marigold, rose, daisy and finely cut grass to bring out bold and vibrant colours like olive green, saffron, red and orange.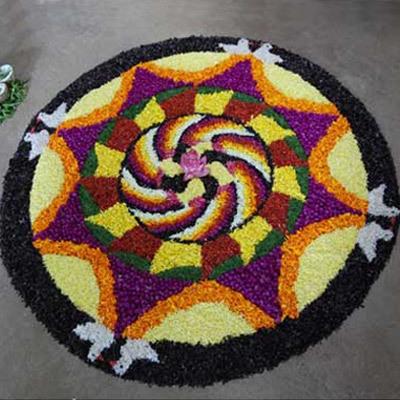 Earthern pot kolam rangoli
If you wish to focus only on a single festive element, then earthen pot kolam rangoli is the best choice. What is unique about this design is that you can easily create a number of earthen pots in different styles and shapes. For instance, if your base is smaller, you can have four earthen pots at the corner with a spectacular lotus flower in the centre. It is a good idea to use a black background for this design to give more prominence to the earthen pots and lotuses. This is one of the top Pongal kolam designs that truly captures the essence of Pongal.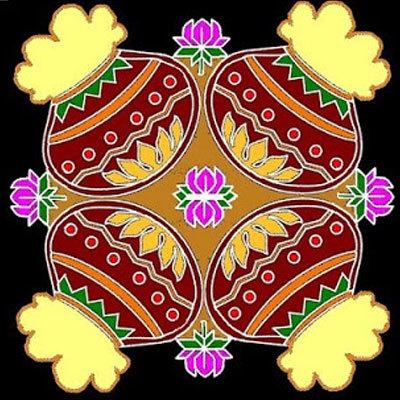 Mirror Kolam rangoli
Mirror kolam rangoli is a minimalistic design which is a huge rage among all age groups. The highlight of these designs is that they do not require much skill and talent. You can create beautiful and delicate mirror kolams by incorporating some symmetrical designs. Horizontally or vertically, they will have an equal number of elements on both sides. Brewing pots, flowers and sugarcanes are the three main components of this design. This is one of the unique Pongal kolam designs that is sure to bring out your creative best.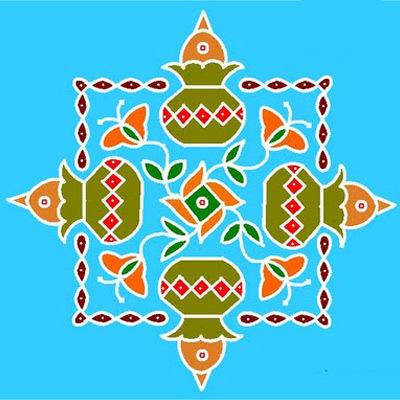 These top Pongal kolam designs are guaranteed to mesmerise your family and friends with their vibrancy and magnificence. You can also adorn your inner spaces by using the miniature versions of these kolam designs. In such as a case, you should choose colours that can match up the various home décor elements in your home. Before you incorporate these exquisite kolam designs, make sure you keep your home spic and span by removing all the undesirable elements. Be it burning your wastes for Bhogi or cooking Thai Pongal, it is highly important to double check if you are equipped with all the fire safety precautions to avoiding unforeseen circumstances.
Head out to Lancor for the best real estate investment options in the prime locations of Chennai, and make the best of this festive season. Happy Pongal!